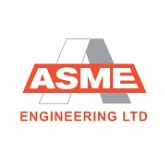 ASME Engineering Ltd
ASME Engineering Ltd
ASME Engineering provides structural steel and architectural metalwork for projects in the South of England. Our major construction clients rely on us to deliver the flexibility, first-class fabrication and safe site installation that bring a prestigious building together. From an architect's concept, we plan, design and fabricate inside the M25, then deliver to installation teams at the client's site. Through CE Marking and ISO registrations for Quality, Safety and the Environment, we ensure that our clients'? project are expertly constructed in a responsible and sustainable environment.
The company is privately owned. The Directors are integrally involved in the daily success of the business. We've built a team of people who are making the most of their potential and are helping to deliver ASME's vision. Perhaps you could be our next success story.

Building Categories
E Large span portals (over 30m)
F Medium/small span portals (up to 30m) and low rise buildings (up to 4 storeys)
G Medium rise buildings (from 5 to 15 storeys)
J Tubular steelwork where tubular construction forms a major part of the structure
K Towers and masts
L Architectural steelwork for staircases, balconies, canopies etc
M Frames for machinery, supports for plant and conveyors
Q Specialist fabrication services (eg bending, cellular/castellated beams, plate girders)
R Refurbishment
S Lighter fabrications including fire escapes, ladders and catwalks
Guide Contract Value
up to £5,000,000
Company Accreditations
FPC-EXC-4 - BS EN 1090-1
QM - BS EN ISO 9001
EM - BS EN ISO14001
HSM - BS EN ISO 45001
10-12 Gorst Road
Park Royal
London
South East
NW10 6LE
UK
Looking for a different member?
Search again here