National Structural Steelwork Specification (NSSS)
About the National Structural Steelwork Specification
The purpose of a National Structural Steelwork Specification (NSSS) is to state what materials and products should be used and how work (fabrication and erection) should be carried out, in order to ensure that the completed structure meets the designer's assumptions and the client's needs. Design standards, such as the Eurocodes, give design rules that are valid only if strength, dimensional accuracy and freedom from defects are within presumed limits. The performance of a structure required by regulations will also only be achieved when construction is within presumed limits.
The complete 'execution specification' for a structure comprises a range of contractual documents, including drawings, a general specification with technical requirements for supply of materials and products and for workmanship, and project-specific requirements for the individual structure.



NSSS 7th Edition, 1st Revision
The 7th Edition, 1st Revision of the National Structural Steelwork Specification (NSSS), launched on the 3rd October 2023 continues to meet its objective of achieving greater uniformity in steelwork contract specifications and is recognised as a document that can be incorporated readily into contract documentation to specify acceptable standards for the fabrication and erection of steelwork structures for buildings.
On the 2nd April, RQSC for Buildings was incorporated into the specification, which on the 3rd October 2023 has bceome a mandatory clause. By including a Registered Qualified Steelwork Contractor (RQSC), you are specifying a company that has been assessed and proved its competency, capabilities and safety, thus providing assurance to clients.
It can be used for all types of building construction designed for static loading and is based on Execution Class 2 structural steelwork designed in accordance with BS EN 1993-1-1 or BS 5950 and executed in accordance with BS EN 1090-1 and BS EN 10902. Annexes for Execution Class 3 for static and fatigue structures are also included.
Also included in this 1st revision is Annex J - Sustainability Specification.
Available to buy in hardcopy from the BCSA Bookshop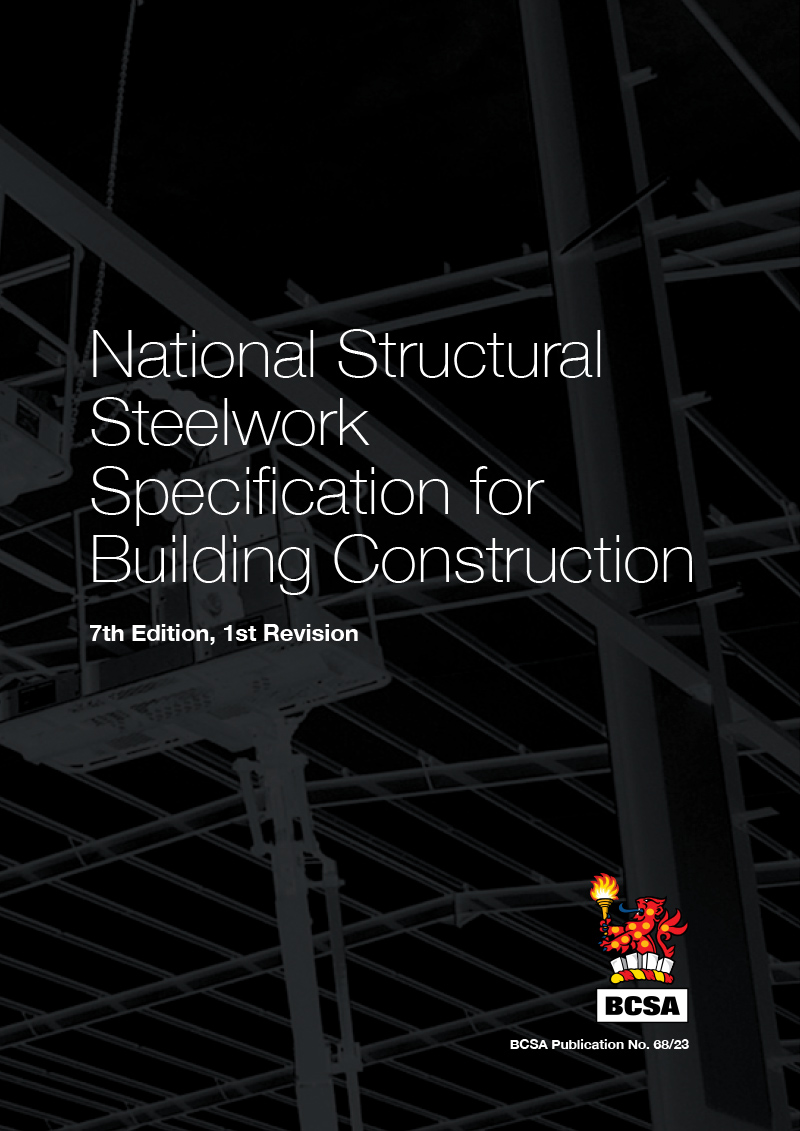 NSSS Corrigenda (2023)
To ensure that the constructional steelwork industry is ready to meet the new challenges presented by the Building Safety Act 2022, BCSA has revised the 7th edition of the National Structural Steelwork Specification for Building Construction.

The main change is the introduction of a new assessment scheme for steelwork contractors to demonstrate their competence and capability in the fabrication of structural steelwork. This new assessment scheme is called the Register of Qualified Steelwork Contractors (Building) and is based on the Common Assessment Standards introduced by BuildUK. The scheme also includes specific requirements for steelwork contractors which include details of their fabrication facility, the skill, knowledge and experience of their staff and CE marking. In addition, the scheme requires information on a company's management and health and safety systems together with their sustainability and Building Information Modelling credentials.
Other changes to the NSSS include:
Clarification that the suppliers of structural fasteners shall be certified to National Highways Sector Scheme 3 and comply with the 'Model specification for the purchase of structural bolting assemblies and holding down bolts, Version 13.1'
Clarification of Section 11.2.2 to make it clear the FPC assessment to BS EN 1090-1 shall be carried out every year.
A Revision to the 7th Edition of the National Structural Steelwork Specification for Building Construction can be downloaded below. The changes will come into force on 2nd October 2023.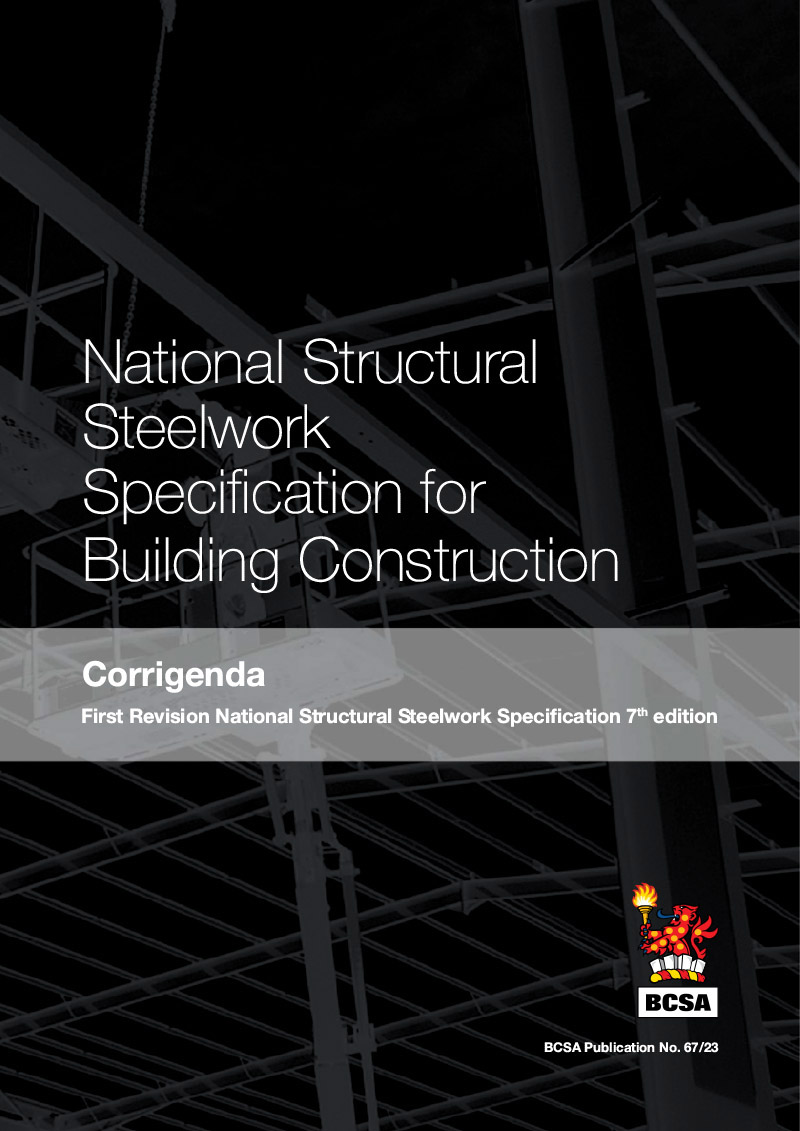 3rd edition of the Commentary on NSSS 7th edition
The 3rd edition of the Commentary on the National Structural Steelwork Specification for Building Construction 7th edition (NSSS) was released in July 2022.
The Commentary provides guidance and additional information on the background and philosophy behind the recommendations given in the NSSS.
The changes to the 7th edition of the NSSS are also reflected in the new Commentary with additional information and updates provided in the following areas:
The references to British Standards (issued with BS, BS EN, BS EN ISO or BS ISO references)
Section 5 – Workmanship. The Steelwork Contractor's welding quality management system shall be certified to the standard quality requirements described in BS EN ISO 3834-3 for Execution Class 2.
Section 10 – Protective treatment (corrosion and fire). This section has been extensively modified and includes updated requirements for corrosion protection systems and new clauses on the specification, application and testing of intumescent coatings.
Section 11 – Quality management. This section requires Steelwork Contractors to have all the necessary facilities, skills and effective quality management to ensure that their services and products conform to the NSSS. It stipulates that the quality management system shall be open to assessment by the Employer or be certified by an approved certification body for compliance with BS EN ISO 9001. In addition, it stipulates that the manufacturer's factory production control system shall be certified by an Approved Body for compliance with BS EN 1090-1.