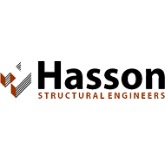 M Hasson & Sons Ltd
Building Categories
E Large span portals (over 30m)
F Medium/small span portals (up to 30m) and low rise buildings (up to 4 storeys)
G Medium rise buildings (from 5 to 15 storeys)
H Large span trusswork (over 20m)
J Tubular steelwork where tubular construction forms a major part of the structure
K Towers and masts
L Architectural steelwork for staircases, balconies, canopies etc
M Frames for machinery, supports for plant and conveyors
R Refurbishment
S Lighter fabrications including fire escapes, ladders and catwalks
Bridgework Categories
AS Ancillary structures in steel associated with bridges,footbridges or sign gantries (eg grillages,purpose-made temporary works)
FRF Factory bridge refurbishment
SRF On site bridge refurbishment
BA Bridges with stiffened complex platework
CM Cable-supported bridges (eg cable-stayed or suspension) and other major structures (eg 100 metre span)
FB Footbridges
SG Sign Gantries
CF Complex Footbridge
MB Moving bridges
PG Bridges made principally from plate girders
TW Bridges made principally from trusswork
Guide Contract Value
up to £1,400,000
Company Accreditations
FPC-EXC-4 - BS EN 1090-1
QM - BS EN ISO 9001
EM - BS EN ISO14001
HSM - BS EN ISO 45001
WQMS-C - BS EN ISO 3834-2
NHSS20
17 Glebe Road
Rasharkin
Ballymena
Co. Antrim
Northern Ireland
BT44 8SS
UK
Videos
BCSA Women in Steel series featuring Eimear McMahon
As Compliance Officer for M. Hasson and Sons, Eimear ensures the company complies with legal regulations and industry specific guidelines. When they arise, she addresses concerns and find solutions to the challenges
BCSA Women in Steel series featuring Ellen McCartney
Ellen is CAD Technician (formerly known as a draughtsman) for M. Hasson and Sons, which involved 3D modelling steel structure buildings so they can be fabricated and welded, ready to be erected on site.
BCSA Women in Steel series featuring Sharon Kearns
Sharon is a structural steel estimator for the company and is extremely proud to have been directly involved with a new iconic sculpture in Belfast; the Belfast RISE, representing the journey Northern Ireland has gone through from conflict to peace.
Looking for a different member?
Search again here