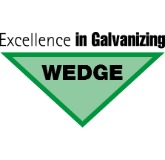 Wedge Group Galvanizing Ltd
Wedge Group Galvanizing Ltd
Stafford Street
Willenhall
Walsall
West Midlands
WV13 1QR
UK
Videos
BCSA Women in Steel series featuring Anita Bate
Anita is General Manager for Edward Howell Galvanizers Ltd, part of Wedge Group Galvanizing Ltd. In the video Anita discusses projects she has worked on and how we should encourage people into the industry "Just be yourself".
BCSA Women in Steel series featuring Alex-Cottier-Small
Alex is Works Manager for Wessex Galvanizers, part of the Wedge Group Galvanizing Ltd. Alex gives sound advice on the mind set to approach the industry and how rewarding not only her job is, but also working the constructional steelwork sector.
Looking for a different member?
Search again here